Singapore consists of the island of Singapore plus an additional 63 islets. The main island is approximately 42kms from west to east, and 23km from north to south. As Singapore is located near the equator it is generally hot & humid all year round with the temperature almost never dropping below 20 degrees. During the day temperatures are usually between 25 – 32 degrees. The wettest months are November to January and the driest months are May to July.
Singapore is a modern cosmopolitan country. After centuries of immigration, Singapore has three main ethnic groups, Chinese, Malay and Indian. Each group fosters a variety of language, religious and cultural attributes which results in the multicultural face of modern Singapore. These influences have crossed the boundaries of ethnicity with most Singaporeans enjoying the food and religious celebrations of each of the three main ethic group.
Weather
Located just north of the equator, Singapore has a tropical climate and stays hot and humid throughout the year. Be sure to pack lightweight cottons and linens to avoid becoming overheated in the muggy Singapore climate. Also remember to carry an umbrella any time of year, but particularly during the rainy season.
Visa
All visitors to Singapore must:

hold a passport or a travel document valid for more than 6 months at the time of departure,

hold an onward or return ticket;

have sufficient funds for the duration of stay in Singapore;

have submitted an Electronic Arrival Car online or completed a physical Disembarkation/Embarkation Card at the port of entry;

have entry documents (including a visa if required) to their next destination (if applicable);

have a visa and/or a yellow fever vaccination certificate for entry into Singapore (if applicable).
Transportation
MRT
Hours: The MRT operates from 5:30 a.m. to midnight, but operating hours are usually extended during holidays and other special seasons. The MRT's train frequency varies, generally arriving in 2-3 minute intervals during peak hours from 7 a.m. to 9 a.m., to intervals of 5-7 minutes during the rest of the day.
Fares: Prices are based on the distance covered, ranging from .83 to 1.25 Singapore dollars (around 60 to 90 cents). Use the Singapore Land Transport Authority Fare Calculator to estimate fares between stops.
Ticketing: Both train and bus fares use a stored-value, contactless smart card called the EZ-Link Pass. To enter and exit the paid area, tap the card on the gantry; a screen will show the EZ-Link Pass's remaining value.
Where to Get Passes: You can buy EZ-Link Passes at MRT Stations, bus terminals, and 7-Eleven stores. Single-journey passes are also available. Read our article about Singapore's EZ-Link Pass for more details on Singapore's contactless transit cards.
Getting to Changi Airport: Ride to Tanah Merah Interchange (EW4), where you can transfer to a train that goes directly to Changi Airport (CG2).
BUS
Two bus lines operate in Singapore: SBS Transit (sbstransit.com.sg) and SMRT Buses (smrt.com.sg); buses run throughout the island from 5:30 a.m. to midnight, with frequencies ranging from five to 30 minutes.

After midnight, extended night transport services (Nite Owl from SBS, NightRider from SMRT) cover abbreviated routes throughout Singapore until 2 a.m.

Like the MRT, Singapore's buses use the EZ-Link Pass for electronic ticketing. You can also pay in cash, exact change only.
Taxis and Ride Shares

Here are a few taxi phone numbers worth remembering, to use when you're in Singapore:
Comfort Transportation: (+65) 6552 1111

CityCab: (+65) 6552 1111

SMRT Taxis: (+65) 6555 8888

Trans-Cab Services: (+65) 6555 3333
Prices and Surcharges
Travel during peak periods: A peak period taxi surcharge of 25 percent of your metered fare applies if you're riding a taxi from 6 a.m. to 9:30 a.m on weekdays (excluding Singapore public holidays), and 6 p.m. to 12 a.m.;

Travel after midnight: A midnight surcharge of 50 percent of your metered fare applies for taxi travel from 12 a.m. to 6 a.m.
Travel from certain areas: A location-based taxi surcharge applies for taxi trips departing from certain areas at certain times. These include:
Central Business District (5 p.m. to 11:59 p.m.): 3 Singapore dollars
Marina Bay Sands (6 a.m. to 4:59 p.m., Sundays and public holidays): 3 Singapore dollars
Changi Airport (5 p.m. to 11:59 p.m., Friday to Sunday): 5 Singapore dollars;
Resorts World Sentosa, Gardens by the Bay, Tanah Merah Ferry: 3 Singapore dollars at any time
Travel through certain areas: Congestion penalties called ERP charges apply if you pass under an ERP gantry in your taxi. Rates vary depending on the location. Payment using a credit card: For credit card payments, taxis add an extra 10 percent administrative fee
Public Transportation & Taxis from Changi Airport
Changi Airport's location in Singapore's northeast allows guests to arrive in the city center within 40 minutes of disembarking from their flight. From Changi Airport, travelers can travel to the rest of Singapore through one of the following transport options:
Bus: bus terminals at the basements of T1, T2, and T3 provide direct access to Singapore. Your best bet is Bus #36, which loops from the airport to the Marina Bay district, Orchard Road, and back. The buses accept exact change, but it's far more convenient to use an EZ-Link card from the MRT terminal at T2 if you're looking to travel further around Singapore in the days ahead.
MRT: The MRT terminal in the basement of T2 provides direct train access to the rest of Singapore. Visit the official SMRT page to find out more about Singapore's MRT network, or download the SMRTConnect smartphone app on Apple iTunes or for Android.
Taxi: taxi stands can be reached immediately outside Changi's arrival terminals. Fares are metered, with additional surcharges added for airport access and traveling late at night. Read about taxis in Changi Airport.
Users of car-hailing app Grab (Apple iTunes/Google Play; official site) can direct a car to Changi Airport's designated pick-up points. More information on the Grab page on Changi Airport.
Car rental: Hertz and Avis operate efficient car rentals for travelers wishing to drive their own rides throughout the island. Read about car rentals in Changi Airport.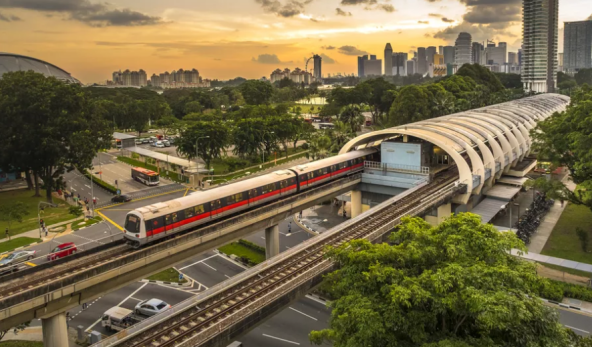 Currency
The Singapore dollar (SGD, known on the street as the "sing-dollar") is Singapore's official unit of currency. Paper notes are denominated in $2, $5, $10, and $50 (less commonly seen are $100, $500, $1,000 and $10,000 bills). Coins come in 5 cents, 10 cents, 20 cents, 50 cents and $1 denominations. Money can be changed in banks and authorized moneychangers everywhere in the city-state. Automated Teller Machines (ATMs) are located all over the city-state - every bank, MRT station, or shopping center has its own.
Credit Cards Major credit cards are accepted islandwide. Surcharges on credit card purchases are not permitted, and any shops that attempt to impose one should be reported to credit card company involved.
Credit Cards
Major credit cards are accepted islandwide. Surcharges on credit card purchases are not permitted, and any shops that attempt to impose one should be reported to credit card company involved.
Electrical Plugs in Singapore
For Singapore, there are three associated plug types C, G, and M. Plug type C is the plug which has two round pins, plug type G has three rectangular pins in a triangular pattern and type M is the plug that has three round pins. Singapore operates on a 230V supply voltage and 50Hz.
Copyright ©www.cmsme.net 2021-2022 All Rights Reserved.