STRATOS VASSILIKOS HOTEL
Address: AIROTEL S.A. STRATOS VASSILIKOS HOTEL 114, MICHALAKOPOULOU STR. 11527, ATHENS (ΑΙΡΟΤΕΛ Α.Ε. STRATOS VASSILIKOS HOTEL ΜΙΧΑΛΑΚΟΠΟΥΛΟΥ 114, - 115 27, AΘΗΝΑ)
ATHENS TEL: 210 7706611 - FAX: 210 7708137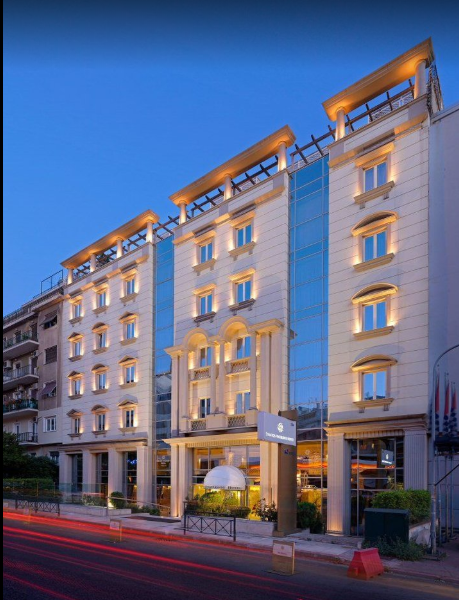 The Stratos Vassilikos hotel, with its simplicity and high aesthetics, creates a next-generation postmodern innovative scene that caters for a wide range of events, meetings and conferences.The hotel is accessible by private vehicle or public transportation from the Hotel's tailor-made packages are all the more enhanced by its modern, fresh and revitalizing meeting spaces equipped with comfortable couches and working desk stations. Special accommodation rates are provided, with a selection of bedroom types, from Standard and Superior to Junior and Master Suites. The hotel offers fine Greek and International cuisine through rich and refined menus, on-site restaurant with local & Mediterranean cuisine buffet or lunch served in meeting room. Free Wi-Fi available in hotel also with complimentary on-site facilities: fitness club with Sauna, Hamam, Jacuzzi, hair salon and etc. Athens International Airport "El. Venizelos", Piraeus, Larissis Station, Kifissos bus station, and through the National Roads Athens
Conference Room-AEGEAN - LEMNOS

Transportation Guildeline
From Athens International Airport (Eleftherios Venizelos) to STRATOS VASSILIKOS HOTEL (Around 31 km)
By Metro (around 27 mins)
Cost per person €10,00 (normal route) and €18,00 (return route)

The first train leaves at 06:30 a.m. and the last one at 23:30 p.m. It departs every 30 minutes.

Take the blue line towards Agia Marina, and get off at Doukissis Plakentias station, then change train towards Agia Marina (same platform) and get off at Megaro Moussikis station (Vas. Sofias / Eginition Hospital exit).
By Express bus X95 (around 40 mins)

Cost per person is €6,00.

The bus operates around the clock. It departs every 15 minutes from the terminal of the airport and stops at Mavili square in Vasilissis Sofias Str. Then you can walk to Stratos Vassilikos hotel after getting off.
From PIRAEUS PORT to STRATOS VASSILIKOS HOTEL (around 15.8km)
You can take taxi from the port to hotel, it will cost around 35 mins.

You can take subway (green line) heading to Kifissia, then change to blue line of metro at Monastiraki Station and take the route towards Doukissis Plakentias-Airport, then get off at Megaro Moussikis Station (Vas.Sofias / Eginition Hospital exit).
l From NATIONAL HIGHWAY ATHENS-LAMIA to STRATOS VASSILIKOS HOTEL
By taking the following streets:
Aharnon av. --Eiphrou Str. --Patision Av.--Alexandras Av.---Sinopis Str.---Mikras Asias Str. --Xenias Str., turn right at Mihalakopoulou Str. and you will arrive at your destination.
BY CAR FROM THE SOUTH

Following Vouliagmenis Av., continue by taking Karea Avenue towards Athens. Take the exit to Ethnikis Antistaseos Str and go straight. Turn right on Vasileos Constantine Avenue (road signs to Kifissias and Mesogion Avenue). Continue on Mihalakopoulou Str. and on your right hand you will see Stratos Vassilikos Hotel.
Copyright ©www.cmsme.net 2020-2021 All Rights Reserved.